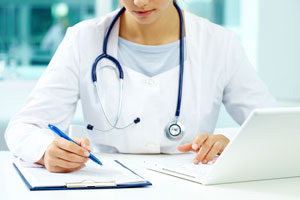 ePractice Practice Management Software is a multi-disciplinary management tool aiding practitioners of various disciplines in managing their practice with essential features like
Patient registration
Appointment scheduling
Treatment planning
Patient invoicing
Reports
Other innovative features
It is a complete practice management system that can be installed across the practice. This desktop application is versatile.
Built-in security permissions for different users

Administrators
Front office
Back office
Practitioners
Flexibility is assigning permissions

ePractice addresses day-to-day needs of



Financial
Operational
Patient communication
Clinical aspects
ePractice has proved beyond doubt that patient care services improve tremendously as more time is found because of automating revenue generation tasks. This has resulted in a strong financial footing for the growth of the practice. This statistic is true across the board of health professionals in general practice. The success of ePractice owes credit to a group of leading practitioners, practice managers and software professionals who have brought their hands-on expertise to the table. The collaboration among these specialists has resulted in ePractice becoming one of the leading practice management systems for health industry in Australia.
Essential features of ePractice
Appointments
Booking and planning
Front office on your desktop
Appointment reminders and confirmation via SMS (short messaging service)
Patient information
Patient details (history, contact information)
Insurance details and verifications
Medications
Treatment plan
SOAP notes (Subjective, Objective, Assessment and Plan notes)
Dermatomes (marking severity of health condition)
Work Cover (details of procedures and diagnoses)
Treatment review
Accounts
Payment information (type, mode)
Invoicing (auto invoicing, statement, aging, rounding off, bulk)
Inventory (refunds)
Images
X-ray pictures, scans, pathology reports)
Reports
Revenue generated (time function – daily, monthly, yearly, forecasting)
Daily reports (procedures, adjustments, payments, incomplete procedures and demographic)